Design of finger joints
Literature: "Finger-Jointed Wood Products"
The geometry of a finger joint largely dictates potential strength of a joint (fig. 2). The elements that describe the geometry are so related that changing any one element automatically changes another. This interrelationship of the elements of a joint complicates investigating the effect on strength of any one element.
The effects of joint geometry on strength have been investigated and discussed by several authors; generally their findings agree (6, 77, 79, 88, 103). All authors indicate the importance of keeping finger tips as thin as practical to obtain maximum strength. Two primary reasons for this are indicated: (1) blunt tips are butt joints incapable of transmitting stress, and (2) finger tips introduce abrupt changes in section that cause stress concentrations that, in turn, result in lower than expected loads at failure.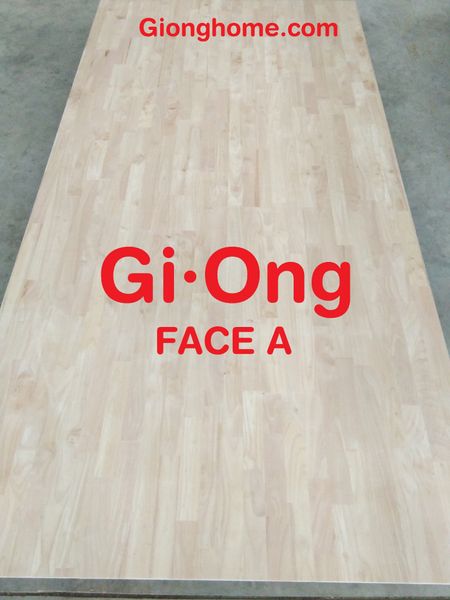 1. Finger joints in general gave increased tensile strength with decreasing slopes, but rate of increase decreased as slope decreased. Gain in strength was very small as slope was decreased from 1 in 12 to 1 in 16.
2. With slope and tip thickness held constant, joint strength increased with increase in pitch, but at a decreasing rate.
3. Correlation was good between joint strength and effective (or sloping) glue-joint area. This indicated that, to obtain high strength, fingers must be sufficiently long and slope sufficiently low to provide an effective glue-joint area large enough to withstand a shear load approaching tensile strength of an uncut or net effective section.
4. If the first three conditions were met, tip thickness became the deciding factor for joint strength. The thinner the tip, the higher the strength.
5. Stress developed in the net section of a finger joint (total section minus area of fingertips) did not greatly depend on slope of fingers in a range of 1 in 10 to 1 in 16 but did depend on sloping joint area or ratio of finger length to pitch (L/P), reaching a maximum for L/P greater than about 4. This maximum stress in Sitka spruce was approximately 17 percent less than the strength of the material (probably caused by stress concentrations at tips). Thus, the strength of a finger joint depends on the area of the net section and the strength of the scarf joints in the net section.
6. The data Indicated conclusively thin joint tips (thinner than in this study) will develop significantly higher strength, and if maximum strength is needed, such as in tension or in bending, as thin a tip as practical should be used.
In related work in Australia, Page (79), stated bending and tension tests on joints of constant pitch and tip thickness indicated that, at slopes steeper than 1 in 8, small reductions in slope produced marked increases in strength. Beyond 1 in 8 or 1 in 9 further reduction of slope resulted in only slightly stronger joints. Reducing the slope from 1 in 4 to 1 in 6 increased strength 50 percent and further reduction to 1 in 8 added 20 percent, whereas slopes of from 1 in 10 to 1 in 16 produced the same strength values-all about 75 percent stronger than 1 in 4. Page was increasing finger length and increasing the UP as discussed by Selbo (103).
Page (79) also said ...as the width of the fingertip is increased, both tensile and bending strength are reduced. This effect becomes less severe as the slope is reduced. Increasing the tip width, he noted causes a greater reduction in strength at a slope of 1 in 8 than at a slope of 1 in 16. This is to be expected because increasing the tip thickness on a joint with a 1 in 8 slope will reduce finger length further; thus the effective glue-joint area is deceased more than in a joint with a slope of 1 in 16.
In much of the early work on end joints, and in some countries even yet (118), the strength of joints is compared to the strength of similar clear material stressed in the same manner to evaluate the joint potential; it is called joint efficiency. This approach has been used with all types of end joints. Plain scarf joints have been evaluated extensively on this basis. With a slope of about 1 to 20, a flat enough scarf can attain tensile strengths of about 95 percent those of clear, unjointed material. Rajcan and Kozelouh (88) developed a system using the joint efficiency data developed for scarf joints as a basis for predicting strength of finger joints. With their method, joint efficiency of a scarf joint of the same slope was reduced by a factor obtained by dividing the area of the cross section in fingertips by the area of the cross section of the piece to be joined. The authors state ...if the efficiency of a simple scarf joint is known, the geometric slope of a joint of required efficiency can be determined. Conversely, from the geometry of a joint it is possible to calculate the efficiency or permissible stress for the joint in relation to clear, unjointed wood.
Pavlov (81) was among the first to investigate the effect of joint geometry on strength. He found that, with a tip of about 0.012 inch and a pitch of 0.315 inch, slopes of 1 in 8 through 1 in 16 were about equal in strength. If he increased tip thickness to about 0.078 inch, slopes had to be 1 in 14 and 1 in 16 to maintain strength at the same level.
At a slope of 1 in 8 increasing tip thickness from 0.012 inch to 0.078 inch reduced finger length, and the effective bond area by about 50 percent. To increase bond area to obtain an equivalent stress level, the slope must be reduced to 1 in 14 or 1 in 16.
Richards (94) also investigated effect of tip thickness on tensile strength of finger joints. He found by cutting the joints so that the male tip had a feathered edge and by coldforming the female tip with a wedge, tensile strength was increased by an average of 47 percent. This increase was greater than would have been predicted based on the change in geometry; a large portion of the increase could be attributed to a reduction in stress concentration at the tips.
Richard's research (94) indicates sharp-tipped fingers have a significant positive effect on strength. However, with conventional fingerjoint cutters there are practical limitations on how thin tips can be. If tips of knives in cutting heads are too thin, they rapidly overheat. This results in either permanent damage to the knives or dulling so that they must be resharpened. Thus, most profiles for conventional finger joints are the thinnest tips commensurate with a practical volume of production.
Several systems have been developed specifically for producing a finger joint with a sharp tip. Examples of these are Strickler's impression joint (108), a system marketed by Wadkins in England (122), and Marian's Mini-Joint (64, 65).
The impression joint is formed with a heated die or a combination of preliminary forming with a saw followed by a final forming with a heated die. Although the joints formed are strong and economical based on wood loss, the system is considered too slow for many production applications (60, 110).
The Wadkins system (122) is also a die-forming process, but the dies are not heated. This joint is not considered suitable for structural use; because of the force required to impress the cold die into the wood, it is limited to low-density softwoods (15, 122).
The Mini-Joint system (64, 65), unlike the other two, cuts the fingers using a series of special saw blades, mounted one for each finger, on an arbor. The arbor is offset to the long axis of the pieces being jointed by one-half the pitch of the fingers. This arrangement allows both halves of the joint to be formed in a single pass. The adhesive is then applied, and the two halves forced together with high pressure and held about 2 seconds. The frictional forces developed when the joints are forced together are reported sufficient to hold the joints so that they can be handled carefully; the adhesive completes its cure at room temperature.
In addition to the effects of joint geometry on strength, other factors might also be classified as joint design. Conventionally made structural joints must be cut to fit together properly. The fit is proper if the tips of the fingers do not quite bottom out when pressure is applied. This ensures sufficient pressure for good bonding is being applied to the glueline.
If appearance is of primary concern for bonding conventionally formed nonstructural joints, a joint should fit tightly together with no gaps at the tips or elsewhere.
A factor that reportedly can affect performance is orientation of a finger joint relative to width and thickness of a piece (26, 74, 83, 111, 118) (fig. 3). Vertical finger joints to be stressed in bending or tension are said to perform better than horizontal finger joints. The reasoning is that, with the profile of the joint on the edge, the two outer fingers carry most of the load and their integrity is very critical to the performance of the joint. With the profile on the wide face the stresses are more evenly distributed across all of the fingers of the joint. It is not uncommon in finger jointing to apply only end pressure. If this is done the outer fingers tend to spread out; the result is thick gluelines and low-strength joints at face or edge. As these weak joints appear on the outer surfaces of the edges or faces they result in areas of high stress concentrations, and the reduction in strength is greater than would be expected based on the reduction in bond area alone. This problem can be reduced either by applying lateral pressure at the time of bonding or by machining off the poorly bonded outer fingers. Pellerin (82) found the tensile strengths for horizontal and vertical joints were almost equal. It is possible that, in carefully made finger joints, differences in strength due to orientation are not significant (3).
A finger joint has been developed in Finland with the primary purpose of reducing the problems discussed above. This joint is formed by cutting fingers at an angle of 45° to the plane of the board (fig. 3). Thus no. thin, flexible fingers are at the surfaces. All fingers are sufficiently rigid to resist spreading, and strong bonds are obtained throughout the joint without applying lateral pressure. Roth (95) claims these joints perform significantly better in bending and similarly in tension to vertical or horizontal joints.
Origin: "United States Department of Agriculture, Forest Service, Forest Products Laboratory, 1 Research Paper FPL 382."