Wood business in Binh Dinh: Ready to the FLEGT
Vietnam and the EU has just finished the negotiations of Voluntary Partnership/Forest Law Enforcement, Governance and Trade (VPA / FLEGT), which has accelerated export opportunities for furniture to the EU. Go Viet journalist record the preparation of the wood exporters in the Central Highlands provinces.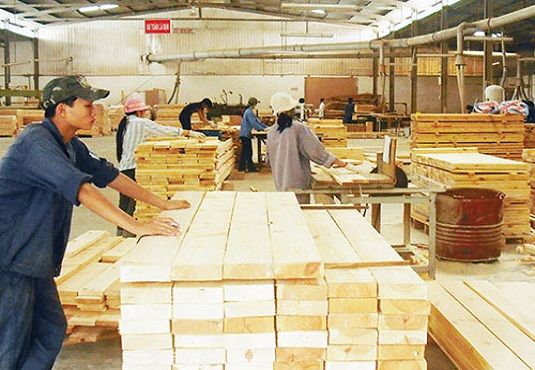 Highlands, as well as other Central South regions, are the largest one for m a n u f a c t u r i n g and exporting furniture in Vietnam. Quy Nhon port is a key for exporting Vietnam furniture and wood chips to the world. The "furniture road" has established for many years, the timber materials which are grown in the Central Highlands forests are often sold to the businesses of furniture manufacture in Quang Ngai, Binh Dinh, Phu Yen after harvesting.
The woodworking enterprises are gatherred near Quy Nhon port, all timber species are closely loaded on the streets to the port. According to Do Xuan Lap, Chairman of Forest Products Association of Binh Dinh, Binh Dinh has nearly 200 timber manufacturing enterprises for export, and over 30 companies specializes in exporting wood chips. Binh Dinh is one of the leading provinces of exporting timber in the country with the average export turnover reachd US$300 million per year, accounting for over 50% of the province's export turnover. Binh Dinh furrniture exports to many countries and regions around the world with major markets such as the UK, France, Belgium, Turkey, Spain, USA, Japan, China, Korea etc. Binh Dinh export furniture has made rapid growth: in 2014 reached nearly US$314 million; 2015 export value increased to US$362.54 million, accounting for 53% of total export value of the province; up 13.2% in value compared with 2014. For outdoor wood, Binh Dinh is a leader with its turnover of US$189.4 million in 2015. Mr Lap said "Binh Dinh timber industry has a high export growth in the the UK, Japan, Korea, India etc with an average increase of 35%, while the average rate in the whole country is only 10.7%. In 2016, the estimated export turnover of Binh Dinh increases by 20% compared to last year".
Truong Son Company in Quy Nhon is specialized in manufacturing and exporting outdoor furniture to the EU, the workers hurry to pack into container. This business owner said that wood export companies to EU earned more than 2 million euros last year. It is more difficult that export value is nearly 1.5 million Euros until this time. This business owner said that "Over the past 3 years, we has been very difficult as exporting our furniture to the EU under carrying out their 955 Regulation. Our purchasing partners must explain to the EU authorities on legal timber origin, they ask us to provide nearly 10 different documents for each shipment. Wood must be certified by the local forester; logging application from the households of forest plantation certified by UNND, together with the lists of forest products, timber species, size and logging productivity; financial invoice. But it is not enough, they request us to submit certification of occupational safety, insurance and certificates on guarantee the rights for workers, environmental certificates etc. Now we are looking forward to the signed and executed FLEGT because it only need the FLEGT permit for exporting to the EU, without having to provide many documents as before".
Thanh Hoa Company in Quy Nhon specializes in providing timber materials for furniture production plants, lumber machinery runs at full capacity. Workers are busy with wood shavings, cutting wood, while the forklifts truck of wooden blocks are continuously shipped in and out. Nguyen Minh Duyen Tran, Director of the Company said, the wood processing industry in Binh Dinh is in the direction of division stages. In particular, Thanh Hoa Company specializes in providing instant embryos for outdoor furniture for businesses in Quy Nhon, HCM City, Dong Nai, Binh Duong. "Every year we deal in 70 thousand blocks of wood, of which half is imported timber, half the wood from plantations in the country. The imported timber materials are mainly FSC timber in the Southern Hemisphere: Uruguay, Brazil, Panama... Imported timber shall be processed in the company, sawn in details like table legs, chair legs, then dried and then sold to other businesses".
According to Mr Duyen, the information of FLEGT is going to be signed, the partners which purchase timber materials from the company request more stringent requirements regarding to timber origin. Before the export only need to have invoice. But since a month back, they require the proof of legal timber for any shipments However, the companies also do not know the types of compulsory documents. Mr Duyen explained "We are suffering from the most miserable period because the companies which purchase our timber materials requiring many kinds of documents and we must provide them. Because they are afraid that if there is a shortage of any papers, this will not be granted to FLEGT, that means they will have to stop exporting goods. We wish the State authorities promptly notified for woodworking enterprises in writing for the kinds of paperwork which they need to prepare".
Duong Duy Khanh, the WWF officials explained to enterprises that the FLEGT scheme will be very convenient and not complex. Later, the State authorities will classify businesses. The companies are ranked No 1, they only need provide the input bill, they shall be granted the FLEGT. It is very easy for the 1st ranked enterprises, but if the companies are only ranked 2, the State authorities will examine very closely".
He also mentioned other issues such as table legs, chair legs ...if they are manufactured with small-diameter wood, domestic wood can be used, but the wood parts need large diameter such as tabletops, chairtops, we are forced to use imported materials with large diameter 25-30 cm, while domestic plantation timber is only 10-15 cm in diameter. So the price of imported timber is 2-4 times higher than the domestic price timber. In the next time, we will not be able to import wood from countries in the region, because they have no legal timber certificate. The timber enterprises make plans to reduce import wood, instead of enhancing the purchase of domestic plantation timber. Mr Duyen said that "There are very few Vietnamese households of forest plantation which harvest after 7-12 years plantation, they usually cut down trees after only 2-3 years for selling wood chips, they don't meet the demand for furniture production. We look forward to the State to have policies for restricting export woodchips. If the households of forest plantation grow their crops, we will have wood from forest plantations in the next few years".
No. 85. VIETNAM TIMBER & FOREST PRODUCT ASSOCIATION.